January 03, 2018 - Søren Alsbjerg Hørup
I started this blog 1 year age. The motivation was 100% for fun and to see how many visitors and view I could get without any niche. I made roughly 64 posts (nice round number) spanning different topics, primarily programming related.
The stats of 2017 are shown here: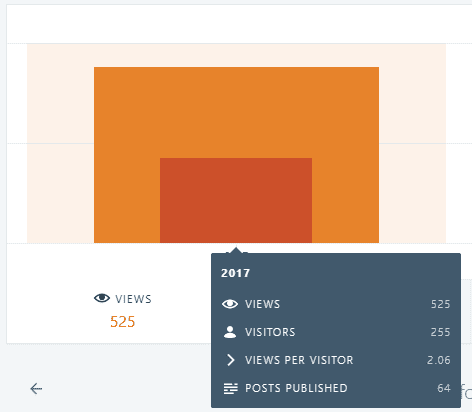 According to the stats I got about 500 views (41/month) and 250 visitors (20/month). Not anything to brag about and nowhere near the 100,000 views / month required to earn a decent amount of money on ads.
To increase the number of views, it is clearly required that one
Clearly defines a niche! not just any-topic as I have done.
Exposes the content through social media or other sites.
Improves the look and feel.
Self-hosts - using .wordpress.com looks a bit cheap.
Learn to write better.
Although I believe I have improved on the last point - I am nowhere near a blogging expert.
I really need to level up my game if I want to increase the number of views.
So for 2018, my goal is to see if I can reach 1000 views and 500 visitors.